Ukraine appeal backed by UK small businesses
.
Our local communities in the UK are our priority, here at Shop Local UK Org. That doesn't mean we're not concerned about the global community – and when Russia invaded Ukraine this year, we were determined to somehow help.

What we managed to achieve and the people we helped was a testament to what small business in this country can do when they work together.

After collaborating with a wide range of small organisations, ranging from food suppliers to dog charities, we were ready to head to Kyiv on a mission to bring supplies for the local citizens and army (and dogs). How our Co-Founder, Nigel, found himself at the edge of the frontlines is an incredible story, and we implore you to read on.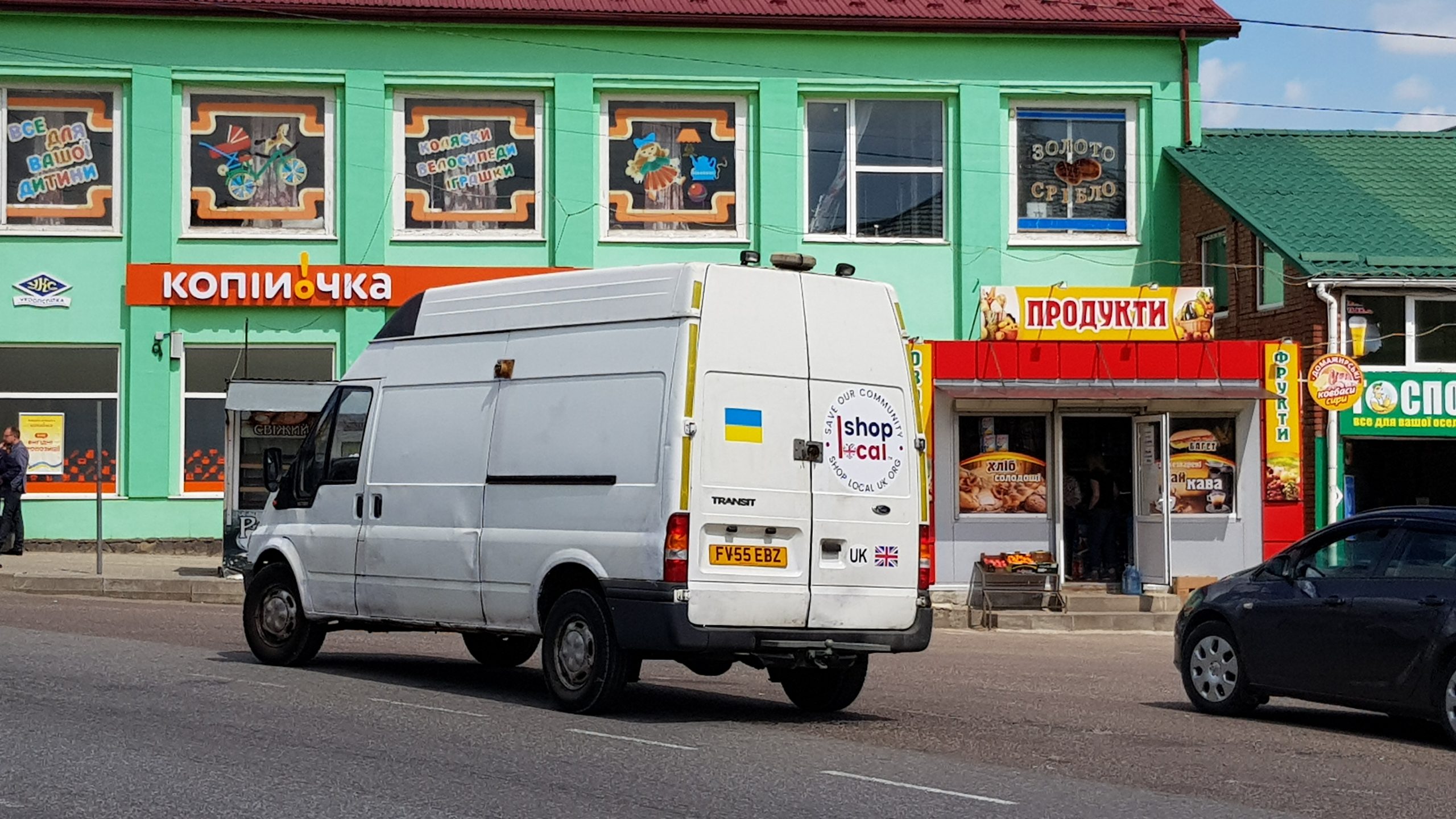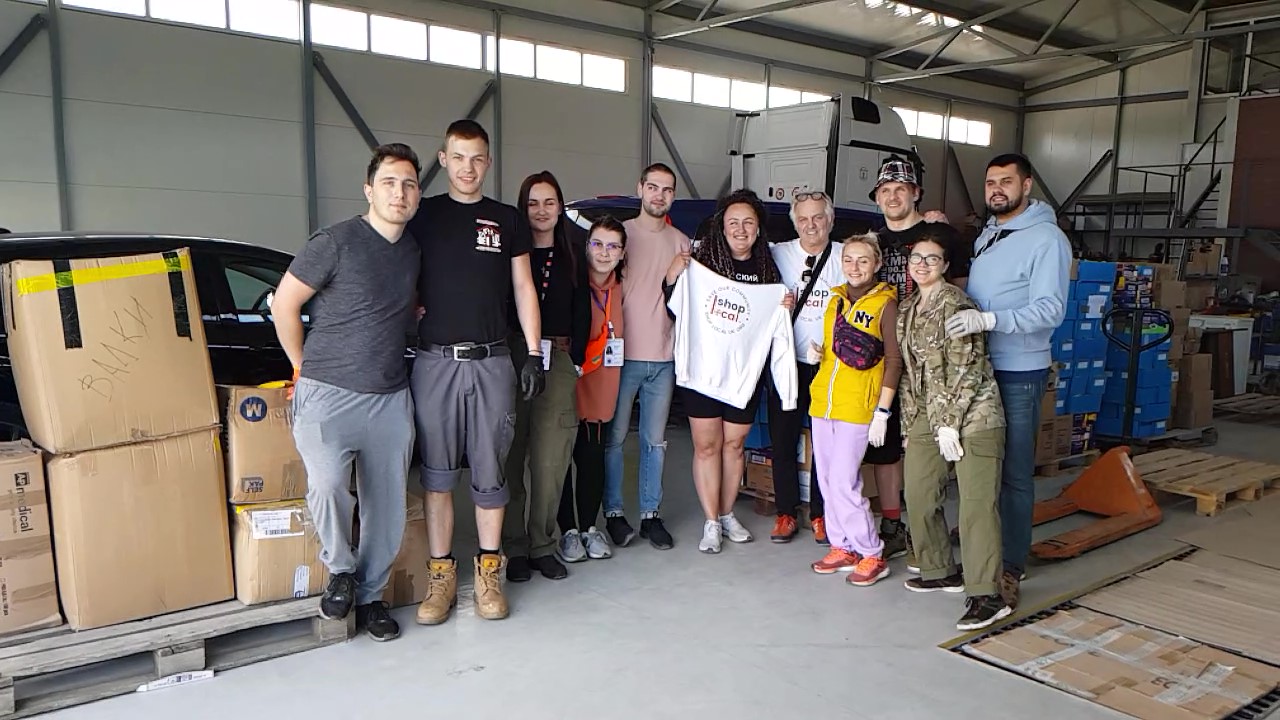 We can't continue with these projects without your help. We want to go on more of these missions and help more people on a much larger scale.
We are a social movement, not a large corporation tied to a long list of financial outgoings and executives to pay, meaning we can put all of your donations straight into acquiring the supplies and getting them to Ukraine. So, please donate to see what we can achieve cooperatively.
We want everybody who donates to be fully involved, so please check out our Instagram page whilst you're there for live updates and more.
Not sure how far your donation will go? See below for more details.
Our point of contact in Ukraine has sent us a shopping list for our next trip. They have the people in place and the infrastructure to distribute. It's down to us to supply them what they need.
Essentials (food, drink and toiletries):
Coffee
Tea
Canned meat
Canned fish
Dried human food
Snacks
Salt
Dried dog food
Soap
Washing powder
Toothpaste
Household and electronics:
Pillows
Blankets
Warm clothing
Flashlights
Powerbanks
Fluorescent lamps
Batteries
What your donation could get
.
Wondering what your money can contribute? We've crunched the numbers to give you a better idea:
Example A:
30 packets of dry noodles – £2.70
10 protein flapjacks – £1.40
24 sachets of baby porridge – £2.80
2 boxes of baby biscuits – £1.40
4 tubes of toothpaste – 40p
4 hand soap dispensers – 40p
4 chocolate bars – 92p
Example B:
2 blankets – £4.70
2 pillows – £2.80
1 10 pack of AA batteries – £1.50
1 flashlight – £1.00
Example C:
20kg of dry dog food – £10
Or 48 x 85g tins of cat food – £10
Example A:
48 packets of dry noodles – £4.32
20 protein flapjacks – £2.80
48 sachets of baby porridge – £5.60       
2 boxes of baby biscuits – £1.40
4 tubes of toothpaste – 80p                        
4 hand soap dispensers – 80p           
4 bars of chocolate – £1.92                   
24 cans of tuna – £4.80                  
12 cans of stewed beef – £5.90
2 blankets – £4.70
2 pillows – £2.80
2 10 packs of AA batteries – £1.50                         
1 USB battery – £3.10     
2 flashlights – £2
48 Cup a Soups – £3.60
1 box of washing powder (5kg) – £2.20
4 packets of digestive biscuits – £1.80
Example B:
100kg of dry dog food – £50
Or 240 x 85g tins of cat food – £50
Come along with us as we increase our efforts and cross the borders to help even more families affected by the ongoing crisis in Ukraine. Follow us on Instagram @stockup2standup for our latest updates.
From our wonderful organisers
.
"Firstly, I would like to thank the people and Government of the UK for all help and assistance you have given to my country in our time of great need. This unprovoked attack and War has torn our country apart, but we are strong people and are not broken and thanks to your help we will survive these times. Every bit of Aid we have received has been so greatly appreciated, not only by the Mothers, Children, Soldiers, and people of Ukraine but by myself and my assistant that are distributing it, we really can not thank you enough, to see the effect it has when we hand it out is truly moving both for the people and the Animals alike. So from the bottom of my Heart I want to say a big thank you to you all, 'Slava Ukraini!'"
Svetlana
Ukraine Operations
The Barnes Goldens is a group of over 100 Golden Retriever owners who got together some years ago both to have some fun but also to raise money for animal charities. When the war in Ukraine began we contacted Svetlana in Kyiv who was struggling to feed dogs who had either been left by owners who fled or got lost in the fighting. With Nigel driving there we were able to send hundreds of kilograms of dog and cat food. Although this obviously helped, a one off is clearly not enough. This war will go on and Ukraine will need help while it does. So the BGs have expanded to form a group solely committed to helping Ukraine. Each of us donates once a month with that money going to providing as much as we can of what both two and four legged Ukrainians need in what is surely the worst time of their lives.
Anne
Barnes Golden
"I am really so happy to be a part of this group in assisting Svetlana help the brave People and Animals of Ukraine. Fortunately, I could not be better placed to help with this type of Humanitarian Aid. My company KT Maxx Foods has been working in supplying food banks here in the UK for over 12 years and I can source the right products at incredible prices and with additional grant assistance ensures I get the best deals possible. So even the smallest of donations will make a big difference in the daily lives for the recipients in Ukraine, so let's make this happen, I can promise to keep supplying the necessary goods if you can help us reach our monthly target."
Katie
KT MAXX Discount Foods
"Since the first Load of Aid I dropped off with Svetlana in April I have been juggling my business commitment and time so I could drive another load out to her as soon as possible. Now on my 3rd trip I really hope to get the support required so that instead of one van load we can send a trailer with 8 times that amount. I have witnessed with my own eyes just how quickly the Aid that I delivered was distributed and the impact it had on those receiving it. We have the best Team of people possible to get this done, So Please help us help the people of Ukraine, their appreciation is really very humbling but at the same time so brave. 'Slava Ukraini!'"
Nigel
Shop Local UK Org
That if you are to help financially in any way to help this aid flow continue and expain then please do so on our giving page.
If you choose to, then we suggest following our Instagram so you can see for yourself the tangible benefits of this aid you have helped provide.We know how rewarding this is, having seen personally the immediate impact a box of baby food or even a packet of noodles has on the incredible and proud people of Ukraine.
It is truly moving for them and us both to know that other Europeans are with them in this horrific situation.
To be able to help the people in Ukraine by providing a 40ft trailer packed full of urgently needed aid at least once per month, for as long as is necessary. We have the knowledge and correct people on the ground to distribute it, and we have the people able to source it at the best price possible and get it there. However, what we do need is your help.

At Shop Local UK Org, we have taken the dive and put our own cause aside for now, and tried and tested the route, delivering two van loads of aid but more importantly, instrumental in helping set up a distribution network of locals that make a difference to the local people that are in desperate need of our help. We want to carry this on, expand the movement, and see how much we can do when we co-operate – that's what SLUO is all about.
To be able to provide a 40 ft truck load of aid once per month initially and to be able to provide 2 trucks per month by the end of July.

Some 56+ Pallets of Food and urgently needed aid for the worst effected areas of Ukraine each month until its not needed.

Below is an example of the size of truck we have available to use but only with the generosity of your help.